PeoplogicaSkills is a web-based online skills testing tool that creates valid, job-based skills tests by combining multiple subjects and skill levels into a single skills assessment. Tests can be customised to suit particular needs and computer generated reports provide accurate results.
Assess your candidates' skills and knowledge in 3 easy steps
What our clients say about us
"We have been a client of Peoplogica's for over 5 years. As a recruitment agency, it's important that we partner with a testing provider that offers a wide range of tests that are up to date. An added benefit of the Peoplogica platform is the ability to be able to customise tests and create unique tests that match the requirements we are looking for."

James Witcombe - Director

"PeoplogicaSkills gives us access to its enormous database and offers us a wide range of skill tests to use for the screening process. We have been able to fast-track our hiring process, save time, identify talent, and process suitable candidates for the job...

PeoplogicaSkills stood out on one more aspect, customer support.  A big shout out to the Peoplogica team for being accessible and helping us out with all our queries."

Lalith Singh Thakur - Talent Acquisition Specialist

"PeoplogicaSkills has been a great tool for our recruitment process especially during the pandemic where we work from home. It's simple to operate for us and for the test takers, offers various battery tests and the Peoplogica team is really supportive."

Rima Nadya - PwC Indonesia

"Peoplogica have been providing skills testing for our candidates for the past two years. They offer a vast array of options in terms of the testing available, a user-friendly platform and supportive, ongoing tech support. I would highly recommend Peoplogica to any recruitment agency requiring broad options and succinct service."

Kelly Harvey – Director Amicus Legal Recruitment

"The best thing about the PeoplogicaSkills testing platform is its user friendliness and flexibility in customizing the range of tests they have.  The team at Peoplogica are also always friendly and happy to help when we need any support with customizing the tests.  We are looking forward to the new services/products they have to offer."

Edelweiss Chan – Office Manager
Scored tests globally in 2022
Scored tests globally since 2003
Industries we serve with our extensive range of over 500 subjects and 4,000 subtopics include:
Click to try one of our sample tests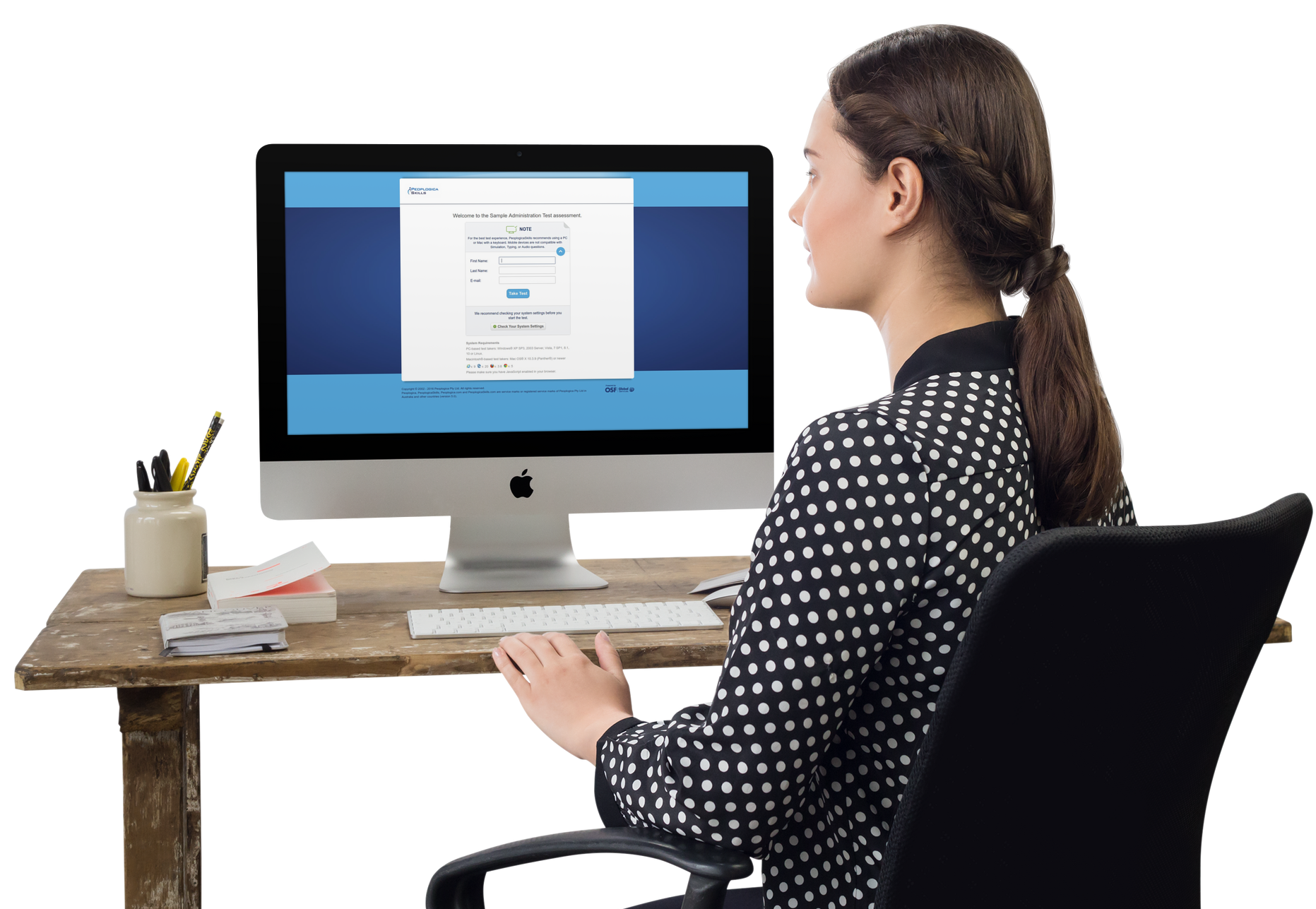 Simple to Use…….Powerful Results
PeoplogicaSkills tests and assessments are generated quickly and easily using our intuitive creation methods. Real time, computer generated reports provide accurate and organised results.
Advanced Features